What is AsseTrack Fixed Asset Management Software?
AsseTrack Fams is a  web based asset management software designed for the efficient management of any company's fixed assets. Each Institution needs to know the value of their fixed assets, their location, custodian, the date they were checked out, expected return date and the current status of each asset. It is also important to have a software that tracks the movement history of each asset and its depreciation as time passes by.
AsseTrack Fixed Asset Management Software a custom built asset management software for the African market. Fixed asset management is an accounting process for tracking fixed assets for the purposes of cost variation, monitor, financial accounting, preventive maintenance, and theft deterrence.
Our fixed asset management software for fixed asset management is targeted for schools assets, companies assets, NGO assets, County Government assets, Church Assets, Governments and parastatals, Universities and colleges and small organizations small and large.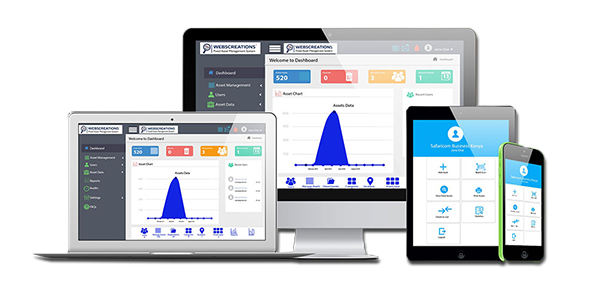 AsseTrack FAMS helps establishing a computerized system for tracking and recording all fixed assets and generates statutory, business and control related standard and dynamic reports.It improves management of widely dispersed assets of an organization, resulting in better accounting practices, maintenance and upkeep of the assets.
The technology also has tracking functionalities that run thorough physical inventories using an easy graphical step-by-step process. The program's Planning solution allows flexible management of capital budgeting and construction-in-progress projects.
Our Asset Management Software Case Use
The software is web-based and needs only to be installed at your server and all your branches will be connected.
To allow access from all devices and locations, it can also be installed on an internet server.
Benefits of AsseTrack Fixed Asset Management Software:
Helps you better understand your assets, which enhances decision making and scheduling
Improves operations, which helps reduce waste and eradicate repetitive tasks
Enhances maintenance procedures as well as other asset policies
Promotes asset documentation by providing organized and detailed records, which is essential during warranty and insurance tussles
Ensures improved utilization of your assets
Boosts asset inventory management through promoting physical verification procedures
Guarantees automated asset inspection and record modification procedures
Allows real-time monitoring of data
Helps measure workforce productivity

Frequently Asked Questions
If you have any questions, please contact us for the best advise.
How does the 14 day free trial work?
After creating your account you have 14 days to try AsseTrack FAMS No credit card information is required or MPESA payments. During your trial you have unlimited access to all of AsseTrack FAMS features.
What happens at the end of my trial period?
After 14 days you'll be prompted to upgrade to a paid plan to continue using AsseTrack FAMS. If you decide not to upgrade, your account will become inactive, but your trial data will be saved for a limited period of time in case you decide to upgrade later. Are there limits to the different paid plans? Plans are based on the size of your team and number of assets. Each plan gives you access to some of AsseTrack FAMS features.
Do you offer discounts for yearly plans?
Yes. If you choose to pay your subscription on an annual basis we'll provide a 10% discount. For example, our Kes 2,000/month Gold plan billed annually would be the equivalent of Kes 1,800/month. What if my team is larger than 20 people? No problem. If you're an company with more than 20 people who need access to your AsseTrack FAMS account, We offer a hosted version for such a client. The client will have a customised system installed for the client. Contact us and we'll get you set up.
Do I need to sign a contract?
Absolutely not. AsseTrack FAMS is a pay-as-you-go service. Use AsseTrack FAMS for as long as you'd like and you'll be billed monthly or yearly. There are no commitments. You can cancel your subscription whenever you'd like.
Are there any hidden costs or fees?
Nope. The subscription plan price you see is the price you pay. No hidden fees, no surprises, no extra costs. If you decide to upgrade to a paid subscription after your free trial expires you'll be billed monthly or annually.
Is my data secure?
Yes. Like your online banking, Webscreations FAMS uses SSL encryption for your account data. And your credit card information and MPESA (and any client payments you accept online) are handled securely using Stripe's third-party payment processing.
Do i need to download any software?
No. AsseTrack FAMS is hosted online. All you need is your web browser. There's never any software to install, or any updates to worry about. AsseTrack FAMS will always be up-to-date with the latest features automatically.
What if i still have questions?
We'd be happy to answer any questions you might have. Simply email us your questions and we'll get back to you quickly, or feel free to contact us. on +254 721 998 368 | +254 721 743 608 or Email us on sales{at}assetrack.co