Fixed Asset management is one of the most time-consuming and frustrating tasks any product-oriented business faces. Asset tags take all the guesswork out of inventory control. When used in conjunction with an asset management software application, the possibilities are endless. With your inventory data in a central database, manipulating data for analysis and making predictions is simple.
AsseTrack Fixed Asset Management Software
AsseTrack FAMS is a Web-based Fixed Asset Management software that tracks asset register, asset depreciation, repair and maintenance, check in/out etc. AsseTrack FAMS is a web based asset management software designed for the efficient management of any company's fixed assets.
The main part of our Fixed Asset Management software is to be able to scan/discover all the fixed assets in your network. Only when you have discovered all the fixed assets you can efficiently monitor and manage them. Our fixed asset management software gives you a wide range of asset scanning methods to make sure that you get them all.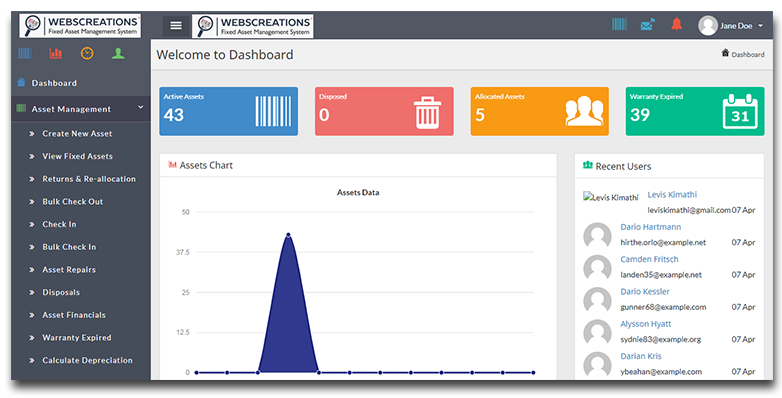 Asset Management Software

The AsseTrack Asset Management Software (AsseTrack FAMS) will enable you to; asset preventive maintenance, and missing assets, asset repairs, asset movement and value added on assets reports. Reconciliation of the Assets is done using an asset tagging management software when data is transferred into the system using a cable or Bluetooth. In order to optimize cost-effectiveness, a Fixed Asset Management Program using bar-code technology needs three elements:
A host system that includes a PDCD (portable data collection device) and PDCD software to maintain the master record of all items.
A bar code scanner that "reads" the identifying Fixed Asset ID Tag.
Fixed Asset ID Tags. Typically, these will contain a "bar code" number and the human-readable equivalent.
Periodic Inventory updates can be made as simple as scanning each tag and accepting or modifying the database entry. The scanner automatically generates an exception list of missing or misplaced assets. The Pocket PC scanner synchronizes with the Fixed Asset Management Software using blue tooth, WIFI or cable.
AsseTrack FAMS – Asset Management Software gives you:-
A comprehensive fixed asset register with details such as asset type, serial number, location, department, custodian, purchase date,current value, etc.
Categorization and grouping of assets into accounting groups such as Computers and accessories, Furniture and fittings, Buildings, Machinery and tools, Office equipment and Motor vehicles. Other groupings based on location, department and asset status are also available.
Management of personnel using the assets and tracking who has what at any time.
Asset allocation control that registers checking in and out of assets. History of asset movement also logged.
Asset maintenance tracking. For serviceable assets, details on history of service, next service dates and warranty validity are kept.
Asset disposal records. A record of all assets no longer in use is kept to indicate their residual value for accounting purposes.
Vendor information. The system records contact information for various vendors that supply the assets and associates them with those assets.
A dashboard showing important summaries
Access control. The data is secured and access to each module is controlled using user roles.
Check in Check out feature / Bulk Check out/ Bulk Check in
Asset Depreciation
Asset Replacement
Asset Repairs
Asset Damaged
Asset Missing
Asset Warranty
Asset Financials
Problems Experienced by Businesses Without Asset Management Software Include:-
1. Poor Maintenance Procedures
— Creating and sustaining an operational workplace infrastructure is not only costly, but also time-consuming. The inability to keep a close eye on your machinery is a serious mistake that can result in misuse of assets and poor maintenance, which ultimately breeds workplace inefficiencies.
— Asset management software helps track who is using a specific machine, how he is employing it, and the last maintenance undertaking. This keeps your assets in the best condition possible, thus increasing your venture's overall revenue.
2. Improper Risk Management
— The secret to developing an operative system and making the best of your assets is learning how to manage risks. Generally, this involves identifying system problems on time and attending to them before they escalate. An asset management system provides a comprehensive database that outlines the entire history of your equipment, showing the previous problems experienced and how they were handled.
— This software enables you to anticipate a possible breakdown, which helps you put in place mitigating measures.
3. Increased Cases of Theft
— Without an asset management system, knowing what you have is practically impossible. Offering an extensive list of all the assets in your venture, this tool helps you identify both dormant and active equipment, thus reducing cases of theft and misplacement.
4. Increased Insurance Charges
— Insuring assets is a common phenomenon, especially for organizations dealing with highly perishable merchandise and expensive apparatuses. However, failure to adhere to the necessary regulations or constantly update your insurance company on the nature of your assets can result in soaring insurance costs.
— AsseTrack fixed asset management system provides updated details regarding your equipment, thus helping insurance companies to revise their plans.
Other Common Problems Include:
— Inability to virtually manage your assets
— Inability to optimize your assets
— Cases of a data breach
— Poor equipment scheduling
— Waste time, effort, and money searching for and replacing lost or missing assets
— Low-cost asset registers do not provide the flexibility to configure their applications as needed
— Help desk systems containing asset registers rarely provide the functionality and accessibility needed to manage assets effectively